---
Newport Beach Live Cam
Situated on the historic Balboa Peninsula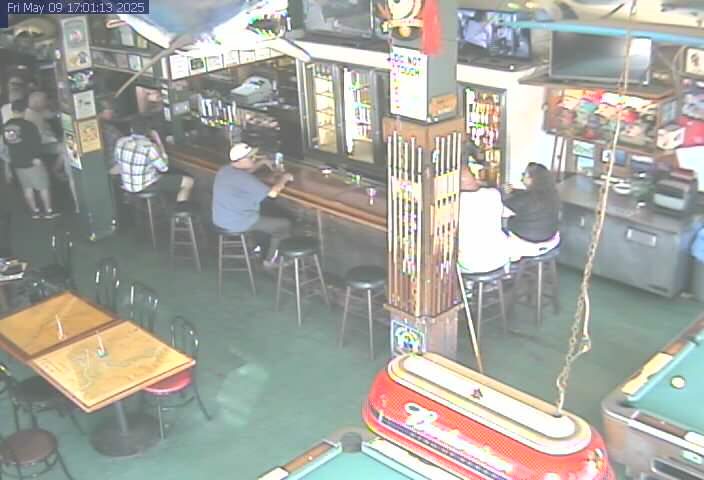 ---
Advertisement
---
Hosted by:
Balboa Saloon
700 E Bay Ave - Newport Beach
California 92661 - United States
949-673-9783
https://balboasaloon.com/
---
A coastal city in southern California
Newport Beach sparkles with miles of beautiful, sandy beaches and glistening blue-green waters. Charming beach houses sit amidst gardens filled with flowering bougainvillea and oleander. Aptly called The Colorful Coast, Newport's long peninsula cradles Balboa and Lido islands in its bay as it stretches toward the neighboring oceanside community of Corona Del Mar. We welcome you to visit this fabulous destination and experience a life style that can not be duplicated. The scenes, smells, activities and people will cause you to return again and again.
Newport Beach is located along the beautiful Pacific Ocean in Orange County,California, nestled south of Los Angeles, north of San Diego and southwest of Disneyland in Anaheim, adjacent to John Wayne/Orange County Airport.
Historic Newport Boulevard
One of the oldest areas in the community, Old Newport Boulevard still retains it sold-fashioned neighborhood charm. As you travel along the boulevard, you'll notice a delightful collage of architectural styles from Cape Cod to Tudor plus numerous original buildings, some from the 1920s and earlier. A former sea captain's cottage currently houses an antique store. A turn-of-the-century bathhouse, moved from McFadden's Pier, is now a charming restaurant.
Whether you're in the mood for French cuisine, Italian, seafood or old-fashioned American home cooking, you'll find it along the boulevard. Search for treasures at any of the unique collectible shops, hunt for vintage clothing or indulge yourself and have your hair styled at any of several salons. Perhaps you're searching for someone special to do embroidery work, make a flag, frame a picture or create a stained glass piece - there's a store that caters to your every desire.
Step Back In Time: Lido Marina Village
Located along the harbor is a spot reminiscent of a European open- air marketplace, beckoning you to visit its 35 shops and businesses. Take a leisurely stroll down Via Oporto, a charming tree-lined cobblestone street. While you sip an espresso, browse through the art galleries and shop the quaint boutiques and hops. Refresh yourself at one of the delightful boardwalk cafes and restaurants as you watch the graceful yachts go by. In Lido Village's main shopping district located near City Hall, rest your weary feet and enjoy one of Hollywood's latest releases at the Lido theater.
Classic & Quaint: Cannery Village
Cannery Village, with its narrow streets, is home to a renowned commercial fishing fleet and filled with unique shops, galleries and ship building establishments. Make a point to dine alfresco at the village's historic restaurant, The Cannery. The original equipment from the Western Canners Company,the first tenant of this structure, is still displayed throughout the dining room, preserving the era of yesterday.
Postcard Perfect: Balboa Peninsula
For those who enjoy outdoor activities, the peninsula is your dream come true. Or take out a boat and explore Newport Harbor. You can also run along the beach, fish off the Balboa Pier or learn a new sport - and that's just for starters. A good spot to begin your day is the Fun Zone, a local institution since its construction in 1936. At this popular amusement center, the kids can ride theFerris wheel and merry-go-round, take a ride in the bumper cars, play arcade games and snack on an authentic Balboa Bar. For the adults, there are countless souvenir and beach shops to explore. Afterwards, you can grab a hamburger or enjoy fine waterfront dining at the ferry landing.
Completely restored, the Balboa Pavilion is Newport Beach's most famous landmark, dating back to 1905. Here you can embark on a sight seeing boat tour of the harbor, start a parasailing adventure, or head to sea for a day of sport fishing or whale watching. Make reservations for the regular departures from the Balboa Pavilion for an enchanting cruise to Santa Catalina Island, only 26 miles offshore.
Newport Pier at McFadden Square will entice you with fresh oysters, clam chowder and fish tacos, as well as the latest in California beachwear in the nearby surfshops. Wander through the Dory Fishing Fleet, an open-air market and landmark since 1891, and choose from a myriad of fresh seafood caught daily. If you can't bear to leave, there are many charming ocean front accommodations nearby. At the end of the day, head south on Main Street to the Balboa Pier and witness a spectacular Pacific sunset.
Enchanting Balboa Island
This quiet and charming island community fronting Newport Harbor and accessed via the Marine Avenue bridge is a popular attraction for visitors and residents alike, especially during the summer months. Stroll down the north bayfront walkway to get a better view of the stately yachts and pleasure crafts. Wander down quaint Marine Avenue and enjoy the unique shopping and culinary delights in a casual setting that characterizes Balboa Island. From beachwear and fine clothing to specialty boutiques, you can spend the day shopping or just browsing. Pick up an ice cream cone, cinnamon roll or gourmet coffee drink along the way. Stop for a bite to eat at a quiet outdoor cafe. Head to the south side of the island and enjoy a picnic by the water while watching the yachts go out to sea. Walk around both islands and view the wonderful architectural mix of Cape Cod and renovated modern homes. Catch the Balboa ferry at Palm Street for a memorable ride to Balboa Peninsula.
Everything Nautical: Mariner's Mile
Catch a glimpse of the seafaring life along West Pacific Coast Highway, where the nautical theme extends to the shops, galleries and many fine restaurants that front the harbor. Yacht surplus stores abound, selling everything from nautical charts to decorative fittings for custom-made yachts. Charter a boat at the marina for an elegant dining cruise, a sport fishing getaway or a Catalina excursion. Take a romantic journey at sunset through the canals around Newport Harbor in a 25-foot gondola. Enjoy world-class cuisine and seafood specialties along Mariner's Mile, which offers an unsurpassed cultural mix of dining choices. From casual to elegant, traditional to innovative, you're guaranteed a pleasurable meal and exciting nightlife with magnificent harbor views.
Charming Corona del Mar
South of Newport Harbor along the Pacific Coast Highway is the exclusive community of Corona del Mar, where custom homes overlook some of the most scenic beaches in Southern California. Spanish for "Crown of the Sea," this beautiful coastal enclave maintains a special small-town charm and welcomes you to it's relaxing sand and surf. Picturesque narrow streets, each named after flowers ofthe town, are full of antique shops, galleries and restaurants.
Children will love exploring the tide pools at Little Corona Beach or Reef Point,seeking out nature's tiny treasures of the sea. China Cove Beach and Crystal CoveState Beach are favorite sunbathing spots. Lookout Point is a great place fortaking breathtaking photographs of the ocean and harbor. Drive south on Ocean Boulevard to Inspiration Point, and you'll discover wonderful views of Newport Beach and nearby Santa Catalina Island. Peer over the edge to get a better view of the seals sculpted in the rocks below. A path leadsdown to Corona del Mar Beach, where you can spend the day soaking up the sun, picnicking, snorkeling in the crystal-clear water or wading in the relaxing tidepools.
For the nature lovers in your group, a visit to nearby Sherman Library and Gardens is a must. The beautiful gardens, set in a living museum setting, house such unusual items as rare desert cacti and exotic tropical species. Just south of Corona del Mar is the majestic Pelican Hill Golf Club. Two nationally recognized championship courses, the Links and Oceans Courses, are set against a panoramic view of the Pacific and feature sweeping rugged canyons andnative coastal terrain. Each of the 18 hole courses will challenge golf enthusiasts of all skill levels. Designed by legendary golf-course architect Tom Fazio, the signature par-three 12th hole, "Pelican's Nest" is considered by many to be one of the country's most beautiful.
Shopper's Paradise: Fashion Island
Newport Beach's finest shopping can be found at Fashion Island. This beautiful, Mediterranean - the med shopping mall encompasses 200 stores and more than 40 placesto dine. Enticing shoppers of all types, Fashion Island offers everything under the sun, including many one-of-a-kind specialty boutiques and major department stores. Stroll through the covered paseos, relax by the fountains and koi pond,then browse through the colorful outdoor kiosks where you'll find everything from gourmet hot dogs to limited-edition porcelain dolls. Atrium Court, an enclosed tri-level complex within the Fashion Island mall, features more than 50 uniqueshops including a gourmet supermarket offering fine prepared foods with an excellent selection of California wines.
Fashion Island has become the "restaurant row" of Orange County, featuring HardRock Cafe, Tutto Mare, Bob Burns Restaurant, El Torito Grill and many more. Located at the hub of Newport Center, Fashion Island is surrounded by two world-class hotels, the Four Seasons Hotel and the Newport Beach Marriott Hotel & Tennis Club.
Also nearby is the Newport Harbor Art Museum, housing the exciting works of many of the nation's best contemporary artists. Fashion Island is also home to a state-of-the-art multiplex cinema and prime office facilities - all located at Newport Beach's most prestigious business and commercial address.