---
Belleville Square Live Cam
A Beautiful City and the county seat of St. Clair County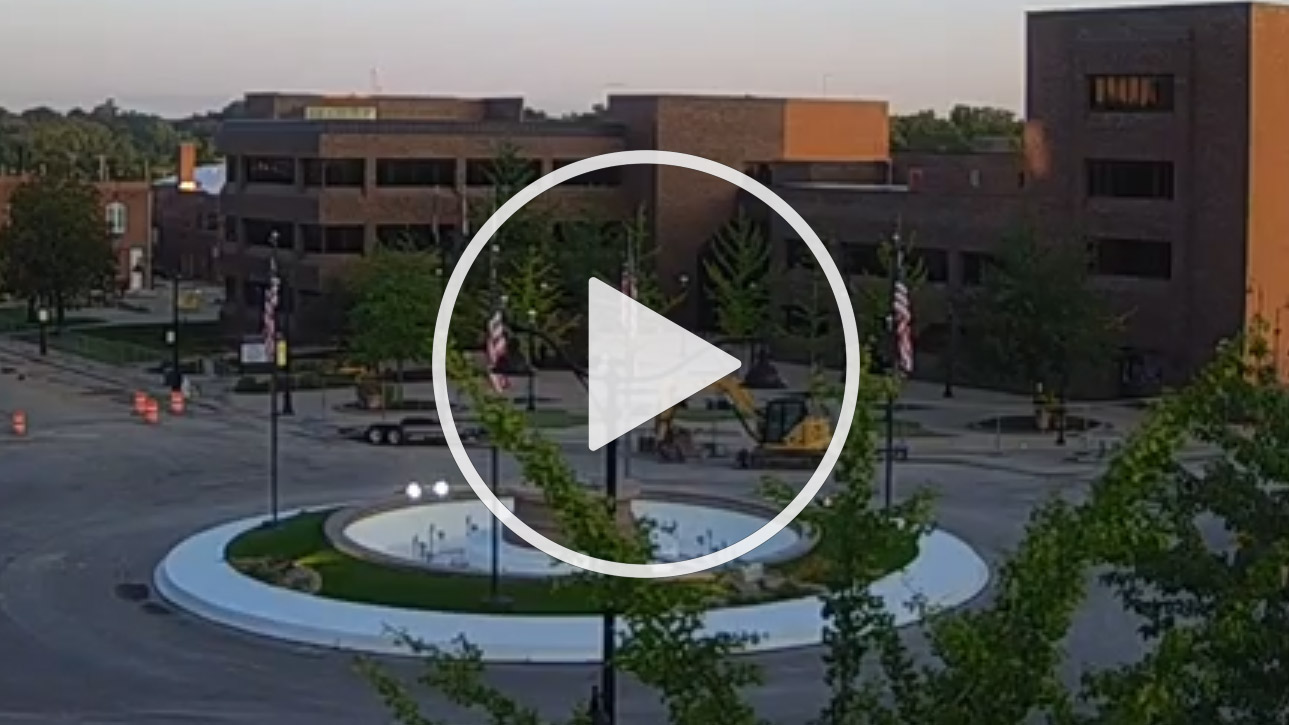 ---
Advertisement
---
Belleville, Illinois, is a historic city located in St. Clair County, in the southwestern part of the state. It is the county seat of St. Clair County and has a rich history dating back to the early 19th century.
Early History: Belleville was founded in 1814 by George Blair, a developer from New Jersey. The name "Belleville" is derived from the French words "Belle" (meaning beautiful) and "Ville" (meaning town or city). The area was initially settled by French explorers and later saw an influx of German immigrants in the mid-19th century. German influence is still evident in the city's culture, architecture, and traditions.
Growth and Development: Belleville experienced significant growth in the 19th century, especially with the arrival of the Illinois Central Railroad in the 1850s. The railroad played a crucial role in connecting Belleville to other major cities, boosting trade and commerce in the region. The city's strategic location contributed to its development as a regional center for agriculture, manufacturing, and trade.
Architecture and Historic Landmarks: Belleville boasts a wealth of historic architecture, including well-preserved 19th-century buildings and charming residential neighborhoods. Some notable historic landmarks in Belleville include:
Belleville Cathedral (Cathedral of Saint Peter): A beautiful Catholic cathedral built in the mid-19th century, known for its stunning architecture and stained glass windows.
Belleville City Hall: A grand and historic building in the heart of the city, serving as the center of local government.
The Gustave Koerner House: Formerly the residence of Gustave Koerner, a prominent politician, and diplomat, this house is now a museum showcasing local history.
The Lincoln Theater: An old movie theater dating back to the 1920s, which has been restored and still operates as a cultural venue today.
The Governor's Mansion: A historic home built in the 19th century, once serving as the residence for several Illinois governors.
Culture and Community: Belleville has a vibrant community that celebrates its German heritage through various events and festivals. The Belleville Oktoberfest and the St. Nicholas' German Festival are two prominent examples of the city's cultural celebrations.
In addition to its historical and cultural significance, Belleville is home to several parks, recreational areas, and community centers that offer residents and visitors various opportunities for leisure and social activities.
As with any city, Belleville continues to evolve and grow, adapting to the changing needs of its residents and visitors while preserving its unique history and identity.
Top Tourist Attractions
National Shrine of Our Lady of the Snows: This beautiful Catholic shrine is a significant religious site attracting pilgrims and tourists alike. It features stunning architecture, tranquil gardens, and various devotional areas.
Belleville Cathedral (Cathedral of Saint Peter): A magnificent Catholic cathedral with impressive architecture and intricate stained glass windows, making it a must-visit for history and art enthusiasts.
Gustave Koerner House: This historic home, once belonging to Gustave Koerner, a notable politician and diplomat, is now a museum showcasing local history and artifacts from the mid-19th century.
Eckert's Belleville Farm: A family-friendly destination, offering pick-your-own fruit experiences, farm markets, seasonal events, and activities throughout the year.
Belleville Historic District: Take a stroll through Belleville's charming historic district to admire well-preserved 19th-century buildings and architecture. The area has a unique and picturesque ambiance.
Belleville Philharmonic Society: This community-based orchestra performs a variety of musical concerts and events, making it an excellent cultural experience for music enthusiasts.
Belleville Main Street: The downtown area of Belleville features a variety of shops, restaurants, and art galleries, making it a great place for shopping and dining.
South Side Park: A lovely public park with walking trails, picnic areas, and playgrounds, providing a pleasant space for outdoor recreation and relaxation.
St. Clair Square: This regional shopping center offers a wide range of stores, restaurants, and entertainment options for those looking for a modern shopping experience.
Climate
Belleville experiences a humid continental climate, which means it has four distinct seasons with relatively hot and humid summers and cold winters. Here's a breakdown of the typical climate in Belleville:
Summers (June to August): Summers in Belleville are warm and humid. Average high temperatures during this season range from the mid-80s to low 90s Fahrenheit (around 29-35°C), while nighttime lows can drop to the mid-60s to low 70s Fahrenheit (around 17-23°C). July is usually the warmest month.
Autumns (September to November): Fall in Belleville is mild and pleasant. The temperatures gradually cool down during this season, with highs ranging from the mid-70s to low 80s Fahrenheit (around 24-29°C) and lows ranging from the mid-40s to mid-50s Fahrenheit (around 7-15°C). Fall foliage can be quite beautiful in the region.
Winters (December to February): Winters in Belleville are cold, though not as severe as in some northern states. Average high temperatures during winter range from the mid-30s to mid-40s Fahrenheit (around 2-7°C), while nighttime lows can drop below freezing, ranging from the mid-teens to low 20s Fahrenheit (around -9 to -6°C). Snowfall is common, but the amount varies from year to year.
Springs (March to May): Springs in Belleville are relatively mild and gradually transition into warmer weather. High temperatures during spring range from the mid-50s to low 70s Fahrenheit (around 13-23°C), while nighttime lows range from the mid-30s to mid-50s Fahrenheit (around 2-13°C).
Like many places with a continental climate, Belleville can experience some temperature variations and occasional weather extremes. Thunderstorms are common in the spring and summer, and severe weather, including tornadoes, can occur during certain times of the year. It's always a good idea to check the local weather forecast when planning a trip to Belleville to be prepared for the conditions during your stay.
Geography
It lies approximately 15 miles (24 kilometers) southeast of St. Louis, Missouri, and about 260 miles (418 kilometers) southwest of Chicago. Here are some key geographical aspects of Belleville:
Location: Belleville is situated in the American Midwest, within the Mississippi River Valley. It is part of the greater St. Louis metropolitan area, which spans both the Illinois and Missouri sides of the Mississippi River.
Topography: The area around Belleville features a relatively flat topography, typical of much of the surrounding land in the Midwest. The land is characterized by fertile soils, making it suitable for agriculture.
Waterways: The Mississippi River is the most significant waterway in the region, running just west of Belleville and serving as a natural boundary between Illinois and Missouri. Several smaller streams and creeks also traverse the area.
Climate: As mentioned earlier, Belleville experiences a humid continental climate with four distinct seasons. Summers are warm and humid, winters are cold with occasional snowfall, and spring and fall provide milder and more pleasant weather.
Surrounding Communities: Belleville is surrounded by several smaller communities, some of which include Swansea, Shiloh, O'Fallon, Fairview Heights, and Scott Air Force Base.
Green Spaces: Belleville and its surrounding areas have several parks and green spaces that offer recreational opportunities, including South Side Park and Bellevue Park.
Transportation: The city is well-connected by major highways, including Interstate 64 and Interstate 255, which provide convenient access to St. Louis and other nearby cities. Additionally, Belleville has a regional airport, MidAmerica St. Louis Airport, located to the east of the city.
Belleville's location and geography have contributed to its historical development as a regional center for trade, agriculture, and industry. Its proximity to St. Louis also allows residents to take advantage of the amenities and opportunities offered by a major metropolitan area while still enjoying a smaller community's charm.
Downtown Belleville
Maureen (Moe, as she likes to be called) has been an amazing addition to the Belleville Main Street Organization. Moe joined the office in the summer of 2002 and has been extremely successful in her duties. She has brought several businesses to the downtown area and her reach extends beyond Main Street. Some of her successes include; the Bridgeman Agency, Apollo Hair Systems, French Twist, Crushed Grapes and more.
She has also been instrumental in bringing the Sheldon Concert Hall to Belleville for the upcoming "Music on Main" event to help celebrate Oliver C. Joseph's 90th anniversary on Main Street. Moe worked in television and film in Los Angeles for most of her career, but chose to return to the Midwest to raise a family. She is happily married and a mother of three young girls yet somehow has time to enjoy marathon running as her favorite hobby as well.
Carolyn Although not a "native", I have lived most of my life in Belleville. I attended Wolf Branch Grade School, Belleville East High School, University of Missouri, Kansas City, Illinois State University in Normal, Southern Illinois University at Edwardsville, (hold teaching certificates for secondary education in both Missouri and Illinois, taken classes at Southwest Illinois College, and presently live with my family in a wonderful old house in an historic district within easy walking distance of downtown.
I remember taking a cab downtown with my Mother or Grandmother to shop at the many stores and have lunch at Schlosser's. As a teen, I could find many of the latest fashions at Haskell's, Lerner's, Lisbon's, Carroll House, Katz's, Penney's or Fellner's. I watched many a movie at the Lincoln or Ritz Theatres. Belleville was a lively place AND, I'm happy to say, it still is!
I became part of the Belleville Main Street program one year after it began approximately six years ago. As a member of the Design Committee, I have co-coordinated the "Belleville Bloomers", dedicated volunteers from the community who tend the planters along East and West Main Street, and since October 2002, work as staff person and editor of Belleville Main Street's newsletter, The Main Street Impression.
Belleville has fabulous potential and the opportunities for reaching and exceeding this potential are many. With all of our citizens working together and remembering to "buy in Belleville", we will keep Belleville tres belle.