---
Cabarete Live Cam
A beautiful resort town on the Dominican Republic's northern coast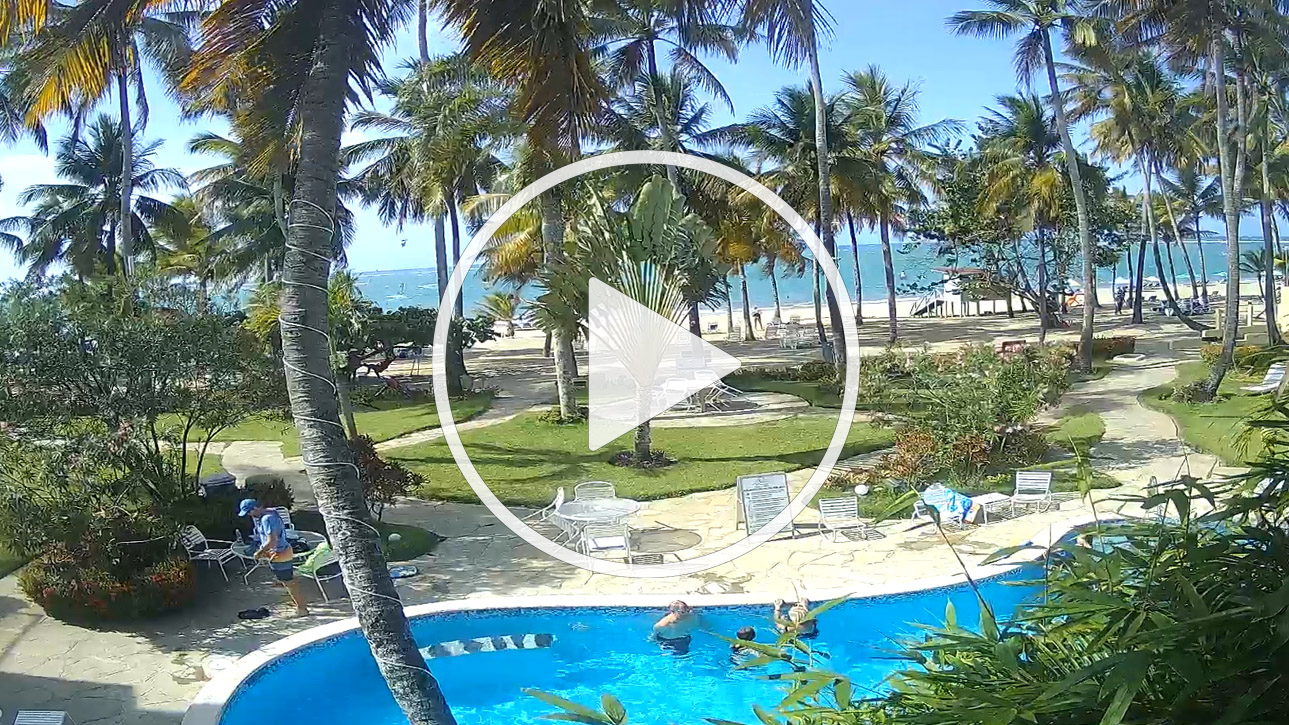 ---
Hosted by:
Cabarete Palm Beach Condos
Calle Remigio Lopez # 2
Cabarete 57000 - Dominican Republic
+1 (855) 522 1142
https://cabaretecondos.com/
---
Cabarete Bay is protected by a coral reef
Cabarete is a unique place in the Dominican Republic. This small town is already well-known all over the world thanks to its ideal conditions for windsurfing. World champions from all over the World have come here. This was also the place where León Bélanger, the current representative of the Dominican Republic in the Professional Windsurfing Circuit started his carrier. Symbolizing one of Cabarete's characteristics, a Graceful Combination Of Dominicans And Foreigners working together to achieve the highest goals.
Cabarete is much more than beach and sun bathing. It is an attitude. It is several kinds of sports like windsurfing, surfing and mountain biking, which attract the best of these disciplines; it is music and the "Cool" atmosphere, with its bars and restaurants on the beach, with its live-shows attracting people from all over the world, turning the beach into the United Nations for those under 40. And it is also ecology with its natural monuments, in which the mountains and the lagoon - a valuable refuge to many species - meet.
Sports, Tours & Activities in Cabarete, Dominican Republic
Just outside Cabarete-center are the Cabarete Caves - you should definitely visit them. Just behind Cabarete is the Laguna (Lagoon), an ecological refuge for many rare animal and plant species (especially good for bird-watchers).
Other activities in Cabarete include horse riding (on the beach and/or in the mountains), mountain-biking, water-skiing, scuba-diving, tennis, surfing, golf, and many more.
Cabarete is a small, pleasant and low-key beach village located 15 km. east of Sosua. It's one of those naturally charming places that have such a comfortable ambiance that most visitors who come here want to come back. In fact, quite a few free spirits spontaneously decide to change their plans after arriving so they can hang around the village for a few extra weeks or months, if not settle down for a while.
Years ago, Cabarete was a hide-out place for rich Dominicans families from Santiago and the northern region who built beach cottages to visit on long weekends and holidays. More recently it has been taken over by the tourist industry and has developed a more casual international flavour, with Québécois, Germans, French, Swiss and many other nationalities mixing with the local population. The main reason Cabarete's size is limited is that on the southern side of the highway, behind a row of buildings, lies a superb large lagoon popular for more tranquil row-boating and bird-watching of some interesting species, including pelicans, that nest there. Other local attractions include caves that formerly served as home for the original Indian inhabitants of the island
The heart of Cabarete lies at the base of a small bay. The road that runs through its half-mile long centre is bordered with several small hotels, restaurants, souvenir shops and other businesses lining both sides. Behind the businesses on the northern side of the road lies one of the finest beaches in the Caribbean, whose golden fine sand stretches for more than 3 km. in both directions, perfect for taking long strolls or jogging. Because of its unique situation, there are no huge hotel complexes close to the village centre, so the beach is never too crowded.
For windsurfing, Cabarete is considered one of the top 10 spots in the world. About 10 years ago it was discovered that the combination of the shape of its bay, with a reef at its entrance, and local wind conditions, made it ideal for this sport throughout the year: winds just strong enough, but rarely too heavy, and small waves to bounce over, a bit rougher over the reef where the thrill-seekers concentrate.
In addition to its excellent conditions, a major drawing card is the fact that compared to other famous windsurfing sites, such as Hawaii for example, prices for everything are relatively cheap, from hotels, bars and restaurants to rental/storage of equipment, or windsurfing instruction for novices. On a good day, it is not unusual to see more than 100 colourful sails out in the bay zipping along at high speeds over the water. There have been several international competitions held there during the month of June in the past, with top professionals, including Robby Naish, who came from all over the world who came to compete. Cabarete is therefore very popular with the younger crowd of tourists, mainly singles (20s & 30s) from Europe and Quebec, who are sports-enthusiasts. They flock there to rest on the beach and get a tan in the morning, haul out their boards and sails in the afternoon, and party late into the night.
Conditions are best in the summer, from mid-June until early September, but even during Winter/Spring there are an average of 4-5 days a week with good wind conditions for sailing. For this reason, Cabarete, unlike other tourist areas in the Caribbean, has two high seasons every year. The first and main season runs from mid-December until just after Easter. The second runs from mid-June to mid-September.
Although fairly tiny, Cabarete offers plenty of entertainment options after sunset. A handful of restaurants along the beach compete in offering a variety of tasty dishes, including seafood and shellfish, for reasonable prices (between $8-12 US), while others have daily or weekly specials, such as all-you-can-eat Bar-B-Qs of a variety of meats for as little as $7-8.
For later in the evening there are several excellent bars (New Wave, Tiki Bar & Las Brisas), some of which have inexpensive specials for rum-based drinks. During peak seasons some of them feature live musical entertainment certain nights of the week (mainly rock, blues and reggae), including visiting artists from North America or top Dominican bands, or spontaneous Jam Sessions where visiting musicians are invited to join in. Later in the evening you can go dancing where the Djs mix up a blend of rock/techno/reggae with doses of popular Dominican merengue/bachata/salsa (Las Brisas & Folies).