---
Goodyear Live Cam
A stunning desert city with two man-made lakes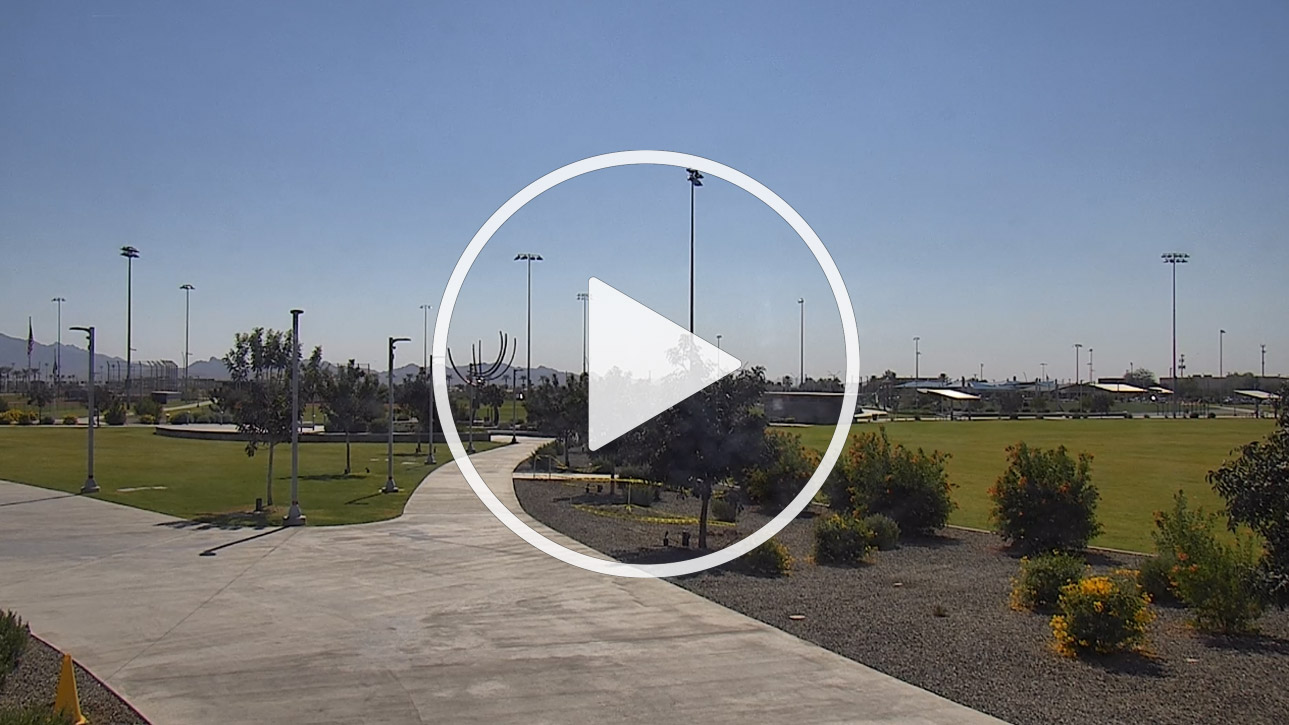 ---
---
The city of Goodyear in Arizona has a rich history that is closely tied to the Goodyear Tire & Rubber Company. Here is an overview of the city's history:
Early Settlement: The area where Goodyear is located was originally inhabited by various Native American tribes, including the Akimel O'odham (Pima) and the Pee Posh (Maricopa). European settlers began arriving in the mid-19th century.
Goodyear Farms: In 1917, the Goodyear Tire & Rubber Company, based in Akron, Ohio, purchased large tracts of land in the vicinity of Phoenix, Arizona. This land was used for cotton farming to provide the company with a stable supply of raw materials for tire production. The agricultural operations were known as Goodyear Farms.
Community Development: As the cotton farming operations expanded, a community began to form around Goodyear Farms. The company provided housing, schools, and amenities for its employees. The settlement was initially referred to as "Egypt" due to its fertile agricultural land.
Incorporation as a Town: On November 19, 1946, the town was officially incorporated as the Town of Goodyear. This was a pivotal moment in the city's history, as it marked its formal establishment as an independent municipality.
Post-War Growth: After World War II, Goodyear experienced significant growth, like many other communities in the United States. The population expanded, and the town's economy diversified.
Transition to a City: On November 19, 1985, Goodyear achieved city status, becoming the City of Goodyear. This change in designation reflected its continued growth and development.
Diverse Economy: Over the years, Goodyear has evolved from its agricultural roots into a diverse and thriving community. While agriculture still plays a role in the local economy, the city has seen substantial growth in sectors such as healthcare, manufacturing, technology, and retail.
Residential and Commercial Expansion: Goodyear has experienced rapid population growth, attracting residents and businesses alike. The city has developed modern neighborhoods, shopping centers, parks, and recreational facilities.
Today, Goodyear, Arizona, is a vibrant city with a strong sense of community and a diverse economy. It continues to be influenced by its historical ties to the Goodyear Tire & Rubber Company, which played a pivotal role in its establishment and early growth.
Top Tourist Attractions
The city offers a variety of attractions for visitors to enjoy. Here are some of the top tourist attractions in and around Goodyear:
Estrella Mountain Regional Park: This expansive park offers hiking and biking trails, picnicking areas, and opportunities for wildlife viewing. It's a great place to enjoy the natural beauty of the Sonoran Desert.
Goodyear Ballpark: This spring training facility hosts Major League Baseball teams during their spring training season. It's a popular destination for baseball enthusiasts.
Goodyear Community Park: A family-friendly park with playgrounds, sports fields, and walking trails. It's an excellent spot for picnics and outdoor activities.
Wildlife World Zoo, Aquarium & Safari Park: Located nearby in Litchfield Park, this zoo and aquarium complex offers a wide variety of animals and exhibits, including an aquarium, a safari park, and even a log flume ride.
The Bible Museum: This unique museum in Goodyear showcases an extensive collection of rare and ancient biblical artifacts, including manuscripts, scrolls, and religious art.
Goodyear Skate Park: A popular destination for skateboarders and BMX riders, this skate park features ramps, bowls, and rails for all skill levels.
Goodyear Historic Litchfield Train Station: This restored train station in Goodyear's nearby neighbor, Litchfield Park, provides a glimpse into the area's history and connection to the railroad.
Corral West Horse Adventures: Offering guided horseback rides through the desert, this attraction allows visitors to experience the Sonoran Desert from a unique perspective.
Golf Courses: Goodyear is home to several beautiful golf courses, including the Golf Club of Estrella and Palm Valley Golf Club, which offer picturesque landscapes and challenging play.
Spas and Wellness Centers: Several spas and wellness centers in Goodyear provide opportunities for relaxation and rejuvenation.
Climate
The city experiences a hot desert climate characterized by extremely hot summers and mild winters. Here are the typical climate characteristics for Goodyear:
Summer (June to August): Temperature: High temperatures often exceed 100°F (38°C) and can occasionally reach as high as 110°F (43°C) or more. Dry Conditions: Summers are typically very dry with minimal rainfall. This period is marked by clear skies and low humidity levels.
Fall (September to November): Temperature: Temperatures begin to gradually decrease, with highs ranging from the mid-90s to the low 80s°F (30-27°C) in September, dropping further in October and November. Decreased Precipitation: Fall is still relatively dry, but there may be a slight increase in rainfall compared to the summer months.
Winter (December to February): Temperature: Winters in Goodyear are mild, with daytime highs ranging from the low 60s to the mid-70s°F (16-24°C). Nighttime temperatures can drop to the mid-30s to low 40s°F (2-7°C).
Spring (March to May): Temperature: Spring brings a gradual warming trend, with highs starting in the 70s°F (around 24°C) and climbing into the 80s and 90s°F (27-35°C) by May. Increased Precipitation: Spring sees a slight increase in rainfall compared to the preceding months.
Rainfall: Overall, Goodyear receives very little annual precipitation, averaging around 8 inches (200 mm) per year. Most of the rainfall occurs during the winter months.
Sunshine: Goodyear enjoys abundant sunshine throughout the year, with over 300 days of sunshine annually.
Wind: Breezy conditions are not uncommon, especially during the spring months.
Monsoon Season: Goodyear is subject to the North American Monsoon, which typically occurs from late June to September. During this period, the city may experience increased humidity levels and occasional thunderstorms.
It's important to note that while these are general climate patterns, specific weather conditions can vary from year to year. Additionally, extreme heat during the summer months is a notable characteristic of Goodyear's climate, and visitors are advised to take appropriate precautions, such as staying hydrated and avoiding outdoor activities during the hottest parts of the day.
Geography
Sonoran Desert: Goodyear is situated within the Sonoran Desert, which is known for its arid climate and unique flora and fauna adapted to desert conditions.
Elevation: The city's elevation is relatively low, typically ranging from about 900 to 1,100 feet (270 to 335 meters) above sea level.
Agua Fria River: The Agua Fria River, a seasonal waterway, flows through the eastern part of Goodyear. It is a tributary of the Gila River.
Estrella Mountains: To the south of Goodyear lie the Estrella Mountains, which are part of the larger Gila River Basin. These mountains provide a scenic backdrop to the city.
White Tank Mountains: To the north of Goodyear are the White Tank Mountains. The White Tank Mountain Regional Park, located in these mountains, offers recreational opportunities and hiking trails.
Distance from Phoenix: Goodyear is located about 20 miles (32 kilometers) west of downtown Phoenix, making it part of the greater Phoenix metropolitan area.
Proximity to Interstate 10: The city is intersected by Interstate 10, a major east-west highway that connects Phoenix with other cities in Arizona and beyond.
Urban Development: Goodyear has seen significant urban development, particularly in recent years, with a mix of residential neighborhoods, commercial areas, parks, and recreational facilities.
Agricultural Areas: While urbanization has increased in Goodyear, there are still some agricultural areas and open spaces, especially in the western part of the city.
Goodyear Airport: The Phoenix Goodyear Airport, originally a naval air facility, is located in the city and is used for general aviation and private aircraft.
Estrella Community: The Estrella community, situated in the foothills of the Estrella Mountains, is a large planned residential development within Goodyear.
The geographical features of Goodyear, including its proximity to both urban and natural environments, contribute to its appeal as a residential community and a destination for outdoor activities.