---
ICON Park Live Cam
This beautiful views also changes during the day to show Epcot, Disney World and Magic Kingdom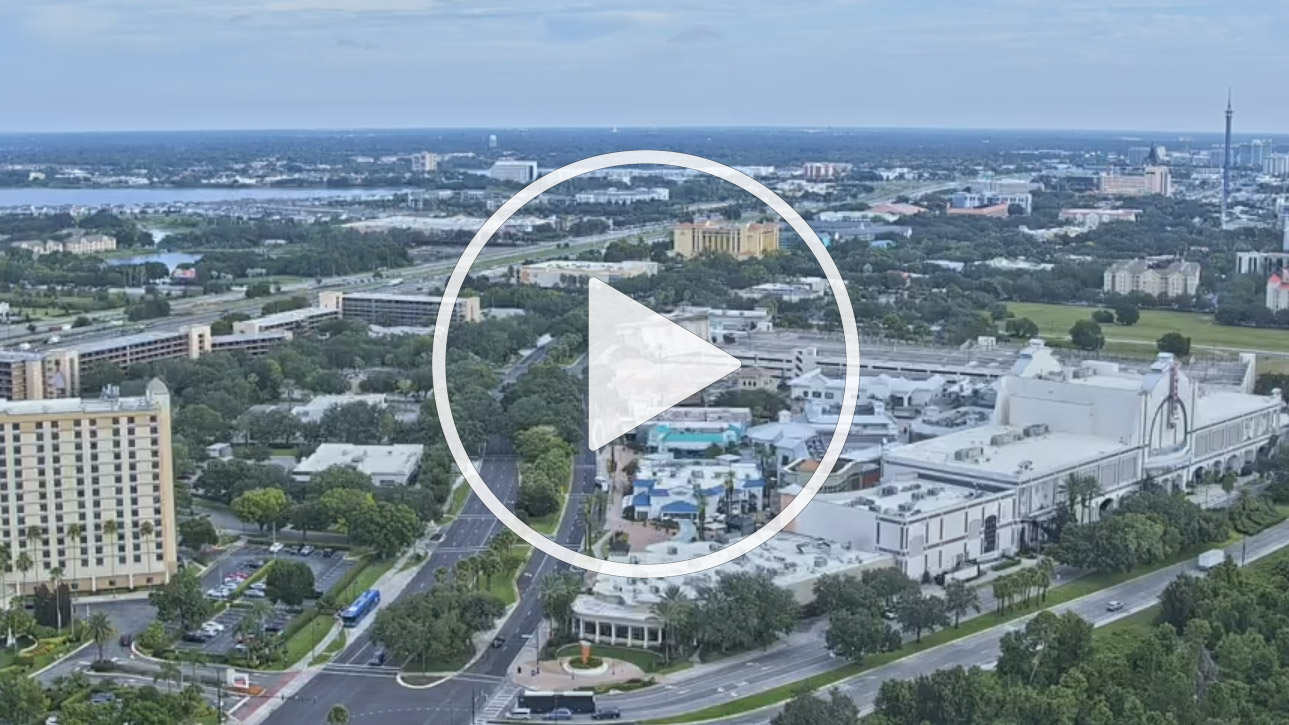 ---
---
ICON Park, located in Orlando, Florida, is a vibrant entertainment complex that has become a popular destination for tourists and locals alike. While it does not have a long history, its development and growth have made it a significant landmark in the area.
ICON Park was initially known as the Orlando Eye when it first opened to the public on May 4, 2015. It was part of a larger project by Merlin Entertainments, a British entertainment company known for its theme parks and attractions worldwide. The Orlando Eye was inspired by the famous London Eye and aimed to provide visitors with a unique and memorable experience.
The Orlando Eye was an enormous Ferris wheel standing at a height of 400 feet (122 meters), making it one of the tallest observation wheels in the world at the time. It featured 30 air-conditioned capsules that offered panoramic views of the city, including downtown Orlando, the theme parks, and the surrounding Central Florida area.
As part of the development, the complex was also home to several other attractions. These included Madame Tussauds Orlando, a renowned wax museum that showcased lifelike wax figures of famous personalities, and SEA LIFE Orlando Aquarium, which displayed a variety of marine life from around the world.
In 2017, the Orlando Eye underwent a rebranding and was renamed the ICON Orlando. This name change coincided with a series of enhancements and additions to the complex, including new dining and entertainment options. The ICON Orlando 360 became the new name for the overall entertainment complex.
In 2019, the complex underwent another rebranding and became known as ICON Park. This name change aimed to simplify the branding and highlight the park's iconic status as a prominent entertainment destination in Orlando.
Today, ICON Park continues to thrive and evolve. It offers a wide range of attractions, including the ICON Orlando, Madame Tussauds Orlando, SEA LIFE Orlando Aquarium, the Orlando StarFlyer (one of the world's tallest swing rides), the Pearl Express Train, and several exciting dining and shopping options. It has become a popular spot for tourists and locals seeking entertainment, breathtaking views, and memorable experiences in the heart of Orlando.
Top Tourist Attractions
ICON Park in Orlando, Florida, offers a variety of top tourist attractions that cater to different interests and age groups. Here are some of the most popular attractions within ICON Park:
The Wheel at ICON Park: Formerly known as the Orlando Eye, The Wheel is a massive observation wheel standing at 400 feet (122 meters) tall. It provides breathtaking views of the city and surrounding areas from its air-conditioned capsules. A ride on The Wheel is a must-do for panoramic vistas and memorable photo opportunities.
Madame Tussauds Orlando: This famous wax museum features incredibly lifelike wax figures of celebrities, historical icons, sports stars, and more. Visitors can take pictures and pose with their favorite figures, creating fun and interactive experiences.
SEA LIFE Orlando Aquarium: This captivating aquarium offers an immersive underwater journey showcasing a wide array of marine life. Visitors can explore various themed exhibits, including interactive touch pools, a 360-degree ocean tunnel, and educational presentations.
Orlando StarFlyer: For thrill-seekers, the Orlando StarFlyer is a must-visit attraction. It is one of the world's tallest swing rides, reaching a height of 450 feet (137 meters). Riders are seated in a swing-like apparatus that spins and swings them around, providing exhilarating views of the city.
Pearl Express Train: The Pearl Express Train offers a delightful and leisurely way to explore ICON Park. This train ride takes passengers on a charming journey around the complex, providing a scenic tour of the area and allowing visitors to take in the sights and ambiance.
The Lawn at ICON Park: The Lawn is a spacious green area within ICON Park where visitors can relax, have a picnic, play outdoor games, or simply enjoy the beautiful Florida weather. It serves as a gathering place for families and friends to unwind and enjoy the park's vibrant atmosphere.
Dining and Shopping: ICON Park offers a wide range of dining options, from casual eateries to upscale restaurants. Visitors can indulge in various cuisines and enjoy a diverse culinary experience. The complex also features a selection of shops and boutiques, offering souvenirs, gifts, and unique merchandise.
These attractions, along with the overall ambiance and entertainment options available at ICON Park, make it a popular destination for tourists looking for fun-filled experiences in Orlando.
Disney World
Disney World is made up of four parks, two water parks, Disney Springs, golf courses and lots of resorts. The four parks are: Magic Kingdom, Epcot, Hollywood Studios & Animal Kingdom. The two water parks are: Blizzard Beach and Typhoon Lagoon. Disney World tickets run around $105 for a single day ticket. They do have a deal where the more days you buy the less each day costs so check that out!
Things to do at Disney World
The Magic Kingdom is where all little (and big) kids dreams come true! There are so many wonderful rides, parades, shows, shops and great food everywhere. Right in Cinderellas castle there is a restaurant called "Cinderellas Royal Table" that is a character dining experience and you will be looking over Fantasyland through beautiful stained glass windows while eating. The park is made up of: Main Street U.S.A., Adventureland, Frontierland, Liberty Square, Fantasyland and Tomorrowland; each 'land' has it's own unique rides, restaurants and shops. There are a few restaurants that offer character dining so just the check the map that you can pick up for free right after you enter the park; reservations are recommend. It is very kid friendly so no alcoholic beverages are served in this park. Park hours change throughout the year so make sure you check the schedule before you go.
Epcot is my favorite! There are some AMAZING rides there in the front of the park (my favorite is Sorin') then when you walk in the back of the park you'll see the World Showcase. This is made up of many countries around the world. You go to each country and you get to experience the culture of it through their delicious foods, arts, music, beers, architect and wares that are imported from that country, etc. You can literally eat and drink around the world; its a very good time for all! Check out the Disney dining plan, it will save you money and most of the restaurants are included. If you want to make dining reservations you can do that up to 180 days in advance and it is recommended. There are two great festivals that Epcot has: The Flower and Garden festival (in the Spring) and The Food and Wine festival (in the Fall). Both festivals are great and offers lots of wonderful foods, drinks and concerts (famous artists) and all is included in your ticket. Epcot-orlando
Disney's Hollywood Studios is all about the movies. There is the Aerosmith roller coaster that goes from 0-60 in 2.8 seconds (you have to be 4 foot tall to ride this one) then just a rock throw from that is the Tower of Terror. This ride drops right out from under you so make sure you like to be 'thrilled' before you get on it. There are all sorts of other rides there and interesting things to see, bands to listen to, food to eat and lets not forget about the new Star Wars area, its awsome! The Star Wars ride is a simulated ride that makes you feel like you're on a roller coaster and that your're flying but all you have to do is close your eyes and that feeling goes away if you get on it and decide that you don't like it. It is simulate though so that means that it jerks a lot but it is TONS of fun; I've rode it many times and love it every time I ride it!
Animal Kingdom is a wonderful park. They have a very scenic and fun safari ride that gets you close to animals just like if you were on a safari in Africa; the theme to this park is Africa and Asia. They have a rapid water ride that is a blast to ride! It's not scary but it sure will get you soaked and this is not a bad thing in the Florida heat, trust me. Just make sure you put your electronics and watches in the compartment in the middle of the raft. You'll want to ride this one five times in a row if you can! Mount Everest is the BIG roller coaster at Animal Kingdom, my kids love it and even if you don't ride it yourself, you have GOT to get a picture in front of it! The Tree of Life is the center attraction of the park. It has a 3D show in it called "A Bugs Life" which depicts the life of lots of animated and cartoon insects; it's really cute and great for the kids. The Lion King is a live show with lots of colors, singing and acrobats in an air conditioned auditorium that will excite everyone. If you get hungry, there are lots of neat little restaurants in the park and at the front gate sits The Rainforest Cafe which is amazing in itself. You can eat right next to an animated gorilla, elephant, tiger, etc. or have a cocktail underneath a giant mushroom; this restaurant is worth checking out!
Disney Springs is the shopping and nightlife part of Disney; it offers a lot! There are restaurants owned by world renowned chefs like Wolfgang Puck, lots of shops, a bowling alley, movie theater, candy stores, live entertainment; more than 150 venues. Coming next year (2017) they will be adding the NBA experience which is going to be a hands on attraction that will allow you to get right in the middle of the NBA game action. Its free to go to Disney Springs; its an open air facility and you can make an entire day and evening just walking around eating, seeing things and just enjoying life; that's what it's all about anyway!
Lazy River Blizzard BeachTyphoon Lagoon and Blizzard Beach (my favorite) are tons of fun. Prices are a little bit more than other water parks but it is Disney and that being said, you will get the Disney experience. There are lots of slides for everyone and they both have a kids area. Life vests are available for all sizes and inner tubes are everywhere. They both have a lazy river and many other relaxing areas as well. Make sure you wear sunscreen and put it on more than once because the Florida sun will cook you if you don't, even if it's cloudy; that's even worse because you don't realize you're getting cooked. Lockers are available for rental and you can bring in coolers to save money on food and drinks. I suggest you wear water shoes because the concrete will get very hot and will burn your feet if you don't.
All four of the main parks have a fantastic fireworks show around the end of the night before the park closes. Sometimes if you're sitting at the right spot at Disney Springs, you can see more than one show simultaneously.
All Disney resort hotels have security checkpoints and lifeguards at their pools for your safety.
Disney World Facts:
Disney World has closed it's doors four times now since the October 1, 1971 opening and every time was because of Hurricanes. The first time was Sept. 15, 1999, for Hurricane Floyd which was a category 5 hurricane and ended up just grazing the coast of Florida. The second time was Sept. 4 and 5, 1999, for Hurricane Frances which hit Florida at a category 2. The third time was Sept. 26, 2004, for Hurricane Jeanne which hit Florida at a category 3. The fourth and most recent time was for Hurricane Matthew which hit Florida at a category 4. The park was closed Oct. 6 – Oct 7, 2016. The park was also evacuated on 9/11 and it only took them only 30 minutes to do so with a very unique technique; all the cast members in each 'land' and on Main Street got together and held hands while walking towards the exits; this forced all the guests to exit the parks quickly.
An imagineer named George was killed during the building of Pirates of the Caribbean. Every night the cast member tells George goodnight in hopes the ride won't break down the next day. I have actually been on that ride when it stopped working briefly.
Disney Hollywood Studios was originally built as a working studio, not a theme park. The Mickey Mouse Club was filmed there with Britney Spears, Justin Timberlake, Ryan Gosling and Christina Aquilera.
Tips:
Disney has a special deal that they offer to Disney resort guests only, its called Extra Magic Hours. If you are staying in a Disney resort you get to get into a park (Disney's choice) either one hour before or three hours after regular park hours. This makes it special for Disney guests because they get to do a lot of things before the park gets busy or after the park thins out. They also have a lot of meet and greet characters during these times for the little ones. This alone makes it worth staying at a Disney hotel.
If you are staying at a Disney hotel and you buy something at a park, you can have them ship the item right to your room or hotel for free so you don't have to carry it around all day.
Disney World is so much fun but can be very expensive; where they get you is with the food and drinks. Everybody has to eat so for a family of four to eat three meals a day can easily add up to 120+ and that's just if you're eating at walk-up quick dining. A great way to save money is to get the kids meals. They all come with an entree plus fruit and milk or juice; they actually give a nice portion as well. You can always substitute french fries at no extra cost and substitute a soda for the milk or juice; its not on the menu that way but they will do it for you if you ask them. There are many places that have condiment bars so this is where you can make a kids burger or sandwich more filling. If you want to experience the sit down dining, having a meal at lunch time is a much cheaper choice. Price sometimes doubles just because its dinner time and the experience is usually the same whatever time you choose to eat.
Something really fun to do at Epcot is to eat around the world. You can do this at a fair price if you and your friends/family split meals at the walk up restaurants or get an appetizers at the sit down restaurants and go to a few different countries eating this way; you'll get to experience a lot more cultures doing this.
Bottle drinks are around $3 which is a lot to me; that includes water. A great tip is to just go up to the walk-up restaurants and order ice water and its FREE. Doing this two or three times a day can save a family of four $36-$48; that's A LOT of money to pay for water!
Disney World lets you bring in coolers so you can save a lot bringing your own sandwiches and drinks. The only problem with doing this (if you don't have small children) is that you're stuck lugging around that cooler all day. If you have young children, a cooler with a strap will hang nicely on the stroller.
Bringing a stroller of your own will save you a bunch of money because the rental fee for strollers per day is almost $20 for a single and over $30 for a double.
Disney World It gets VERY hot here in Florida and it rains A LOT here too. Disney World sells misting fans which really helps keep you cool but they want around $22 for one; that's mad! I suggest you hit a dollar store before you go into a park. You can get those fans from Dollar General, Family Dollar, WalMart, etc. for around $6; you'll be very happy you did if you go to a park in the summer and the fans have a strap so you can wear them around your neck for convenience.
You can get rain coats at a dollar store for $2-$3; Disney sells them for $8-$15. You'll most likely need a rain coat at some point because Florida has daily storms in the summer.
Disney hotels can be very expensive! They do have the All Star hotels and Pop Century that are very modest in price; this is where I usually stay. The great thing about staying on property is that you don't have to drive anywhere if you don't want to; you park your car if you drove and take their buses everywhere for free. If you stay off property, the parking fee at the parks per day is around $14 for a regular car or truck. The hotels have food but its expensive there too so once again, I recommend getting kids meals. They do come with a mini fridge so driving to a store off Disney property is well worth it to fill your fridge; it can save you a lot of money.
Download the Disney World App! There is an App that tells all the wait times for each ride at each park. It really can save you A LOT of time and A LOT of wear on your feet using this app. Its FREE so make sure you use it!
If you book your Disney World vacation in advance and are staying at a Disney resort, you can customize your arm bands with each family member having a different color. These arm bands are your room key card, your fast pass and can even have your credit card attached if you like so you don't have to lug around a wallet or purse. They are also water proof so you can take them in the pools and Disney will mail them right to your door as well.
Traveling to Florida Springs
There are hundred's of fresh water springs in Florida. If you've never been to a spring before you really need to go visit one while you're in Florida.
The water in these springs are crystal clear and being in one is really an experience of a lifetime. Tubing is so much fun! If you're not familiar with tubing, its like a natural lazy river. There are companies that set up outside these springs that offer tube rentals very cheap; between $3-$8 each.
Usually the fee to get into a park is by the carload and isn't usually more than $5 per car. You take your coolers, have a picnic and just make a whole day of it. Its wonderful.
The best tubing spring in my opinion is Ichetucknee Springs State Park, its in Fort White, Fl. which is up by Gainsville. If you're in the Orlando area, there is another park called Kelly Park or Rock Springs (same place) that has tubing as well. Its very nice but not as big as Ichetuckneee Springs. In the same area is Wekiwa Springs that will provide a family day of fun. Over around the Ocala area there are a lot of springs. Fanning Springs is wonderful, one of my favorites and they have cabins you can rent for around $100-$120 a night; these cabins have internet too.Fanning Springs
Tips:
The only real advise I have if you're planning on going to a spring is to check the weather to make sure it's not going to thunder storm. Other than that, the prices are so cheap to rent the tubes and to get into these parks you really can't go wrong. It will be a wonderful vacation you will never forget and you'll want to come back again and again.