---
Rock Live Cam
A coastal fishing village in Cornwall, England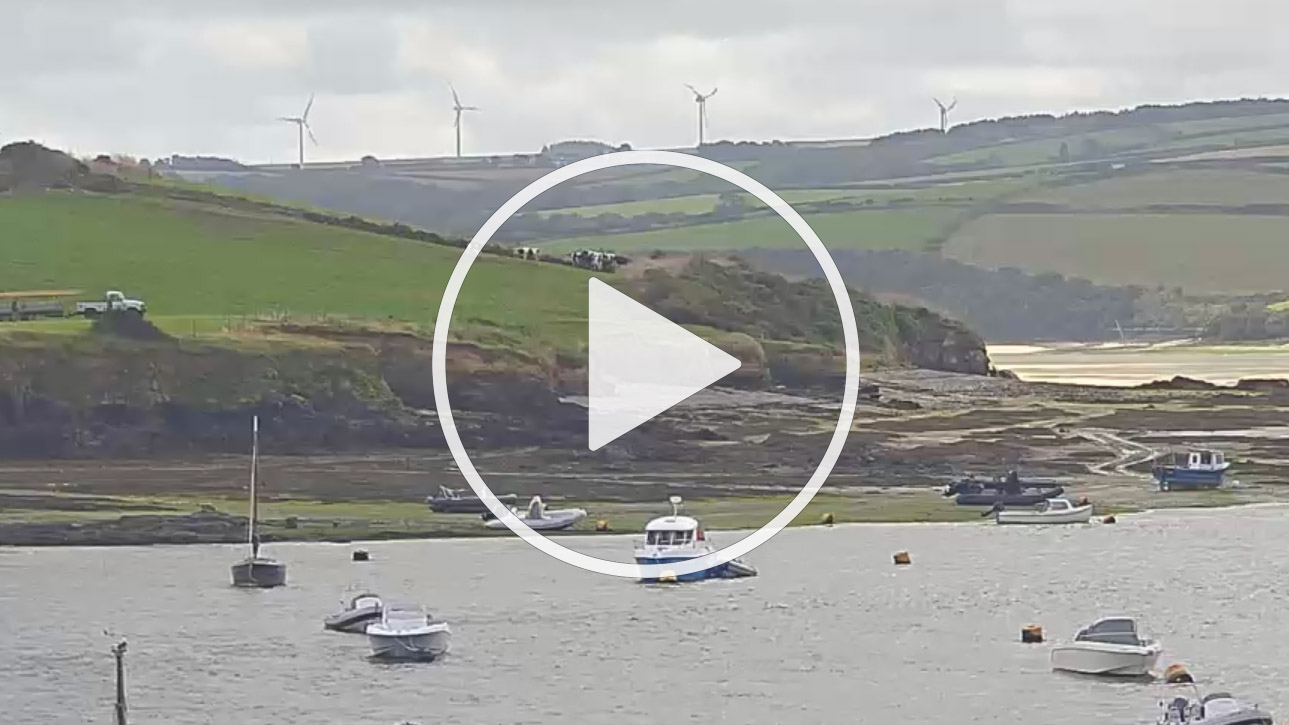 ---
---
Rock is a coastal village located on the north coast of Cornwall, England. It is situated across the Camel Estuary from the town of Padstow. Rock is known for its picturesque views, sandy beaches, and as a popular destination for tourists and watersports enthusiasts. Here's a general overview of the history of Rock village:
Early History: The area around Rock has likely been inhabited for thousands of years, but written records of its history are limited. Like many places in Cornwall, it's possible that Rock was settled by early Celtic tribes and later came under Roman influence.
Fishing and Farming: Historically, Rock was primarily a fishing and farming community. The village was known for its connection to the fishing industry and its proximity to the estuary provided a valuable resource for local livelihoods.
Tourism Development: The modern history of Rock as a popular tourist destination began to take shape in the early to mid-20th century. The establishment of better transportation infrastructure, such as improved roads and railways, made it more accessible to visitors from other parts of the UK.
Celebrity and Royal Visitors: Rock's reputation as a high-end destination for the wealthy and famous grew over the years. Notable figures, including royalty, celebrities, and public figures, have been known to visit the area for vacations and leisure. This has contributed to the area's upscale image.
Watersports and Leisure: The village's location on the Camel Estuary has made it a hub for watersports enthusiasts. Sailing, water skiing, and other recreational activities are popular in the area due to the estuary's calm waters and scenic surroundings.
Second Homes and Tourism: Like many coastal areas in Cornwall, Rock has also experienced an influx of second-home owners and tourists. This has led to debates and discussions about the impact of rising property prices, increased demand for accommodation, and the preservation of the village's character.
Local Economy: The local economy of Rock is now heavily reliant on tourism, hospitality, and watersports-related activities. The village is home to upscale restaurants, boutique shops, and other amenities catering to tourists and residents alike.
Top Tourist Attractions
Rock village and its surrounding area offer a range of attractions that draw in visitors. While Rock itself is a small village, it's known for its natural beauty, watersports, and proximity to other notable destinations in Cornwall. Here are some top tourist attractions in and around Rock village:
Rock Beach: The sandy beach at Rock is one of the main draws for visitors. It's a great spot for sunbathing, picnicking, and enjoying the views of the Camel Estuary. The calm waters also make it suitable for swimming and watersports.
Watersports: Rock is renowned for its watersports, particularly sailing, water skiing, and windsurfing. The estuary's sheltered waters provide an ideal setting for these activities, and there are several local schools and rental places for those looking to learn or indulge in these sports.
Day Trip to Padstow: The village of Padstow is located across the estuary from Rock and can be easily reached by a short ferry ride. Padstow is famous for its charming harbor, excellent seafood restaurants, and boutique shops.
St. Enodoc Church: This beautiful and historic church is located near Rock and dates back to the 12th century. It's known for being partially buried in the sand dunes, creating a unique and picturesque setting.
Rock Sailing Club: For sailing enthusiasts, the Rock Sailing Club offers a hub for sailing activities, racing, and social events. The club has a rich history and plays a significant role in the local community.
Daymer Bay: Just a short walk from Rock, Daymer Bay is another lovely sandy beach known for its clear waters and stunning scenery. It's an excellent spot for beachcombing and family outings.
Walks and Hikes: The coastline around Rock offers some scenic walking trails and hikes. The South West Coast Path runs through the area, providing opportunities to explore the coastal beauty of Cornwall.
Fine Dining: Rock is home to several high-end restaurants and eateries that offer gourmet dining experiences. Many of these establishments showcase the region's fresh seafood and local produce.
Fishing Trips: Given its historical ties to fishing, visitors can often find fishing trips and excursions to experience traditional fishing activities and explore the estuary's marine life.
Golf: For golf enthusiasts, the nearby St. Enodoc Golf Club offers a challenging course with stunning views of the Camel Estuary and the surrounding landscape.
Surrounding Beaches: While in Rock, you're also within easy reach of other beautiful beaches in Cornwall, such as Polzeath Beach, which is known for its excellent surfing conditions.
Remember that the popularity of these attractions can vary depending on the season and local events. It's always a good idea to check ahead and plan your visit accordingly to make the most of your time in Rock village and the surrounding area.
Climate
Rock village, being located in Cornwall, experiences a maritime climate that is influenced by its proximity to the Atlantic Ocean. The climate in Rock is generally mild, with relatively warm summers and cool winters. Here's a breakdown of the typical climate you can expect in Rock village:
Summer (June to August):
Average High Temperatures: 18°C to 21°C (64°F to 70°F)
Average Low Temperatures: 12°C to 14°C (54°F to 57°F)
Summers in Rock are relatively mild and pleasant. While temperatures can occasionally reach into the low 20s°C, it's not excessively hot. This makes it a comfortable time for beach activities, watersports, and outdoor exploration.
Autumn (September to November):
Average High Temperatures: 15°C to 18°C (59°F to 64°F)
Average Low Temperatures: 9°C to 11°C (48°F to 52°F)
Autumn sees a gradual cooling of temperatures, but it can still be a pleasant time to visit. The coastal landscape takes on beautiful autumn colors, and it's a quieter season compared to the summer tourist rush.
Winter (December to February):
Average High Temperatures: 9°C to 11°C (48°F to 52°F)
Average Low Temperatures: 4°C to 6°C (39°F to 43°F)
Winters in Rock are cool and relatively mild compared to other parts of the UK. While frost and occasional chilly spells are possible, it's rare to experience extreme cold. Winter is a quieter period for tourism, but the area's charm remains.
Spring (March to May):
Average High Temperatures: 11°C to 14°C (52°F to 57°F)
Average Low Temperatures: 5°C to 7°C (41°F to 45°F)
Spring brings gradually warming temperatures and the renewal of natural landscapes. It's a great time for exploring the coastal paths, as well as enjoying the blossoming flora.
Rainfall is spread relatively evenly throughout the year in Rock, as is typical of maritime climates. The surrounding ocean also influences the climate, moderating temperature extremes. It's worth noting that weather conditions can change quickly in this region due to the ocean's influence, so it's a good idea to be prepared for varying conditions, even within the same day.
Geography
Rock village is situated on the north coast of Cornwall, England, and is known for its stunning coastal geography and picturesque surroundings. Here's an overview of the geography of Rock village:
Coastline and Estuary: One of the defining features of Rock's geography is its location along the Camel Estuary. The village is located on the eastern bank of the estuary, while the town of Padstow is on the opposite western bank. The Camel Estuary is a tidal river that flows into the Atlantic Ocean, creating a scenic and sheltered waterway.
Sandy Beaches: Rock is famous for its sandy beaches that stretch along the estuary. The beaches are characterized by fine golden sand and are popular for sunbathing, picnicking, and watersports.
Dunes and Coastal Path: The area around Rock features sand dunes that are partially covered by grasses and vegetation. These dunes provide a unique landscape and are home to various plant species. The South West Coast Path, a long-distance hiking trail that follows the coastline of the South West of England, passes through Rock and offers stunning views of the estuary and surrounding landscape.
Views and Scenery: The geography of Rock offers breathtaking views of the Camel Estuary, the Atlantic Ocean, and the surrounding coastline. The village's elevated areas provide vantage points for taking in these scenic vistas.
Wildlife and Nature: The estuary and surrounding areas are home to a variety of wildlife, including seabirds, waders, and marine life. The dunes and coastal environment also support diverse plant species.
Boating and Watersports: The calm waters of the estuary make it an ideal location for watersports such as sailing, water skiing, and windsurfing. The geography of the estuary provides shelter from the open ocean, creating suitable conditions for these activities.
Proximity to Other Attractions: Rock's geography also benefits from its proximity to other notable attractions in Cornwall. For instance, the ferry ride across the estuary connects Rock to Padstow, which is known for its harbor, shops, and restaurants.
Rock Sailing Club: The geography of the estuary has also led to the establishment of the Rock Sailing Club, which plays a significant role in the village's community and offers facilities for sailing enthusiasts.
The village's geography plays a crucial role in its appeal as a tourist destination, offering a unique blend of natural beauty, recreational opportunities, and coastal charm. It's important to remember that the physical landscape and geography can shape the character and activities of a place, and Rock village's geography is a key factor in its identity.