---
Cashiers Live Cam
An unincorporated village located in southern Jackson County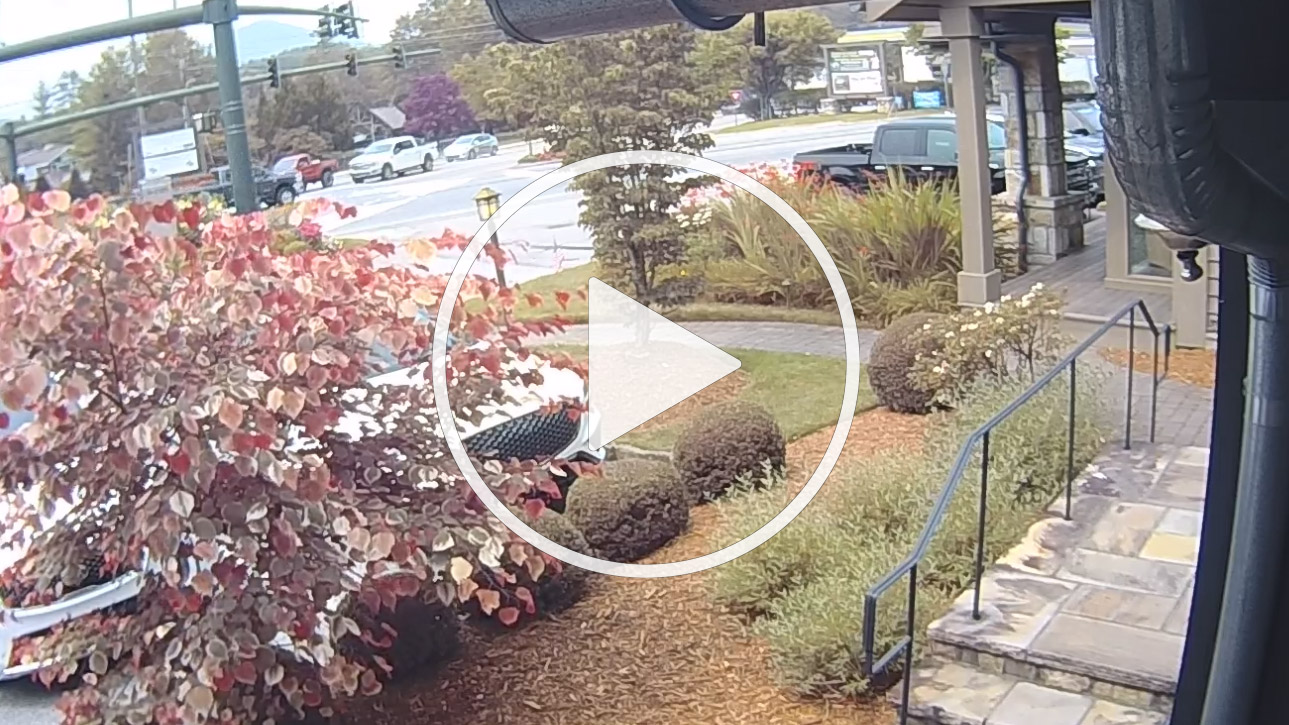 ---
---
The history of cashiers in North Carolina is closely tied to the region's natural beauty, economic development, and evolution as a tourist destination. Cashiers is a small community located in southern Jackson County, nestled in the Blue Ridge Mountains of Western North Carolina. It is known for its picturesque landscapes, including lush forests, waterfalls, and the nearby Nantahala National Forest.
Cashiers was originally settled by European immigrants in the early 19th century. The area was primarily inhabited by the Cherokee Native American tribe before the arrival of European settlers. The name "Cashiers" is believed to have originated from a corruption of the term "Cashes," which refers to the place where traders and settlers conducted business with the Cherokee.
In the early years, Cashiers remained a quiet farming and livestock-raising community. However, the construction of the railroad in the late 19th century brought significant changes to the region. The Southern Railway Company's extension into western North Carolina provided easier access to the area, attracting more visitors and new residents.
As word spread about Cashiers' natural beauty and pleasant climate, it began to attract wealthy families from the lowlands seeking refuge from the summer heat. Many prominent families from cities like Charleston, Savannah, and Atlanta built vacation homes in Cashiers, establishing the area as a summer retreat for the affluent.
One of the earliest significant figures in Cashiers' development was E.H. Jennings, a successful businessman from Atlanta, who built the High Hampton Inn in 1890. The inn became a popular destination for wealthy vacationers and remains a well-known landmark in the area today.
Over time, Cashiers expanded its amenities and services to accommodate the growing number of visitors. The area's scenic landscapes, including landmarks like Whiteside Mountain and the Silver Run Falls, attracted outdoor enthusiasts and nature lovers.
In the mid-20th century, Cashiers experienced further growth with the development of gated communities and the establishment of country clubs and golf courses. These developments catered to a more exclusive clientele and helped solidify Cashiers' reputation as a sought-after destination.
In recent decades, Cashiers has become a popular tourist spot for individuals seeking outdoor activities, including hiking, fishing, and golfing. The community has maintained its small-town charm while embracing tourism as a significant part of its economy. Visitors can explore the many waterfalls, go boating on nearby lakes, or enjoy scenic drives along the Blue Ridge Parkway.
Today, Cashiers continues to attract tourists and second-home owners, contributing to the local economy and serving as a gateway to the beautiful landscapes of Western North Carolina. The area's rich history, natural beauty, and welcoming community have made Cashiers a beloved destination for those seeking a retreat in the mountains.
Top Tourist Attractions
Cashiers is a charming mountain community in North Carolina that offers a range of natural and cultural attractions. Here are some of the top tourist attractions in and around Cashiers:
High Hampton Inn: This historic inn, dating back to 1890, is a popular landmark in Cashiers. Known for its scenic location and Southern charm, it offers stunning views, a beautiful lake, and various recreational activities.
Whitewater Falls: Located in the Nantahala National Forest, Whitewater Falls is a breathtaking waterfall and one of the highest east of the Rocky Mountains. Visitors can enjoy scenic overlooks and hiking trails.
Cashiers Farmers Market: A delightful spot for locals and tourists alike, the Cashiers Farmers Market offers fresh produce, local crafts, homemade goods, and artisanal products. It's a great place to experience the local flavor and support local businesses.
Silver Run Falls: This picturesque waterfall is easily accessible and makes for a great place to swim, picnic, or simply enjoy the natural beauty. The waterfall cascades into a refreshing pool, creating a serene atmosphere.
The Village Green: Situated in the heart of Cashiers, The Village Green is a beautiful park featuring walking trails, gardens, and open green spaces. It hosts various events, concerts, and festivals throughout the year.
Panthertown Valley: Known as the "Yosemite of the East," Panthertown Valley offers miles of hiking trails, stunning waterfalls, and panoramic views. It's a paradise for outdoor enthusiasts and nature lovers.
Whiteside Mountain: This iconic landmark features a stunning granite cliff face, one of the highest in the eastern United States. Hiking to the top rewards visitors with breathtaking views of the surrounding mountains and valleys.
Lake Glenville: Just a short drive from Cashiers, Lake Glenville is a beautiful mountain lake known for its crystal-clear waters. Visitors can enjoy boating, fishing, water skiing, and other water activities.
Gorges State Park: Located nearby, Gorges State Park offers hiking trails, waterfalls, and stunning views. It's a great place for outdoor recreation, including camping, fishing, and birdwatching.
The Bascom: This visual arts center and gallery showcases the work of regional and national artists. It features rotating exhibits, workshops, and educational programs.
These attractions provide a glimpse into the natural beauty and cultural richness of the Cashiers area, making it a delightful destination for visitors looking to explore the mountains of Western North Carolina.
Climate
Cashiers experiences a temperate climate with distinct seasons. The region's elevation in the Blue Ridge Mountains contributes to cooler temperatures compared to lower-lying areas. Here's an overview of Cashiers' climate:
Summers (June to August): Summers in Cashiers are generally mild and pleasant, with average high temperatures ranging from the mid-70s to low 80s Fahrenheit (24-28°C). Nights are cool, with temperatures dropping into the 50s°F (10-15°C). The area experiences occasional thunderstorms during the summer months.
Autumns (September to November): Autumn brings beautiful foliage as the leaves change colors. Temperatures gradually cool down, with highs ranging from the upper 60s to low 70s°F (18-22°C) in September, dropping to the mid-50s to low 60s°F (12-16°C) in November. Nights become chilly, with temperatures often dipping into the 40s°F (4-9°C).
Winters (December to February): Winters in Cashiers are cold, but not excessively harsh. Average high temperatures range from the mid-40s to low 50s°F (7-12°C), while lows can drop into the 20s to low 30s°F (-6 to 0°C). Snowfall is not uncommon, particularly in January and February, with the surrounding mountains receiving more significant accumulations.
Springs (March to May): Springtime in Cashiers is marked by mild temperatures and the vibrant return of foliage. High temperatures gradually increase from the 50s to the upper 60s°F (10-20°C) in March, reaching the mid-70s to low 80s°F (24-28°C) by May. Nights remain cool, with temperatures in the 40s to 50s°F (4-12°C).
It's important to note that mountain weather can be variable and can change rapidly. Fog and mist are common in the mornings, creating a mystical atmosphere in the mountainous terrain. Visitors to Cashiers should be prepared for temperature fluctuations, especially if exploring higher elevations.
The region's climate, with its mild summers and beautiful fall foliage, makes Cashiers an attractive destination for outdoor activities such as hiking, fishing, and golfing, particularly during the spring and autumn months.
Geography
The community is nestled in the scenic Blue Ridge Mountains, a subrange of the larger Appalachian Mountains. Here are some key geographical features of Cashiers:
Elevation: Cashiers is located at an elevation of approximately 3,484 feet (1,062 meters) above sea level. Its high elevation contributes to the cooler temperatures and scenic vistas that attract visitors to the area.
Surrounding Mountains: Cashiers is surrounded by the majestic peaks of the Blue Ridge Mountains. These mountains are characterized by rolling hills, deep valleys, and densely forested slopes. Notable nearby peaks include Whiteside Mountain and Chimney Top Mountain.
Lakes and Rivers: The area is dotted with several lakes and rivers that add to the natural beauty of Cashiers. Lake Glenville, located a short distance away, is a popular destination for boating, fishing, and water sports. The Tuckasegee River, a major waterway in Western North Carolina, flows through the region, offering opportunities for fishing and river activities.
Nantahala National Forest: Cashiers is in close proximity to the Nantahala National Forest, a vast wilderness area that spans over 530,000 acres. The forest is known for its rich biodiversity, picturesque landscapes, and outdoor recreational opportunities, including hiking, camping, and waterfall exploration.
Panthertown Valley: Located near Cashiers, Panthertown Valley is a unique geographic feature known as the "Yosemite of the East." It encompasses over 6,000 acres of protected land and offers a diverse range of ecosystems, including waterfalls, granite domes, and bogs. The valley is a popular destination for hiking and outdoor enthusiasts.
Gorges State Park: Situated close to Cashiers, Gorges State Park showcases stunning gorges, waterfalls, and scenic vistas. The park offers numerous hiking trails, fishing spots, and opportunities to observe wildlife in their natural habitat.
The geography of Cashiers, with its mountainous terrain, pristine lakes, and dense forests, provides a picturesque backdrop for outdoor activities, nature exploration, and a tranquil retreat away from urban areas.