---
Key Biscayne Live Cam
Situated across the Rickenbacker Causeway from Miami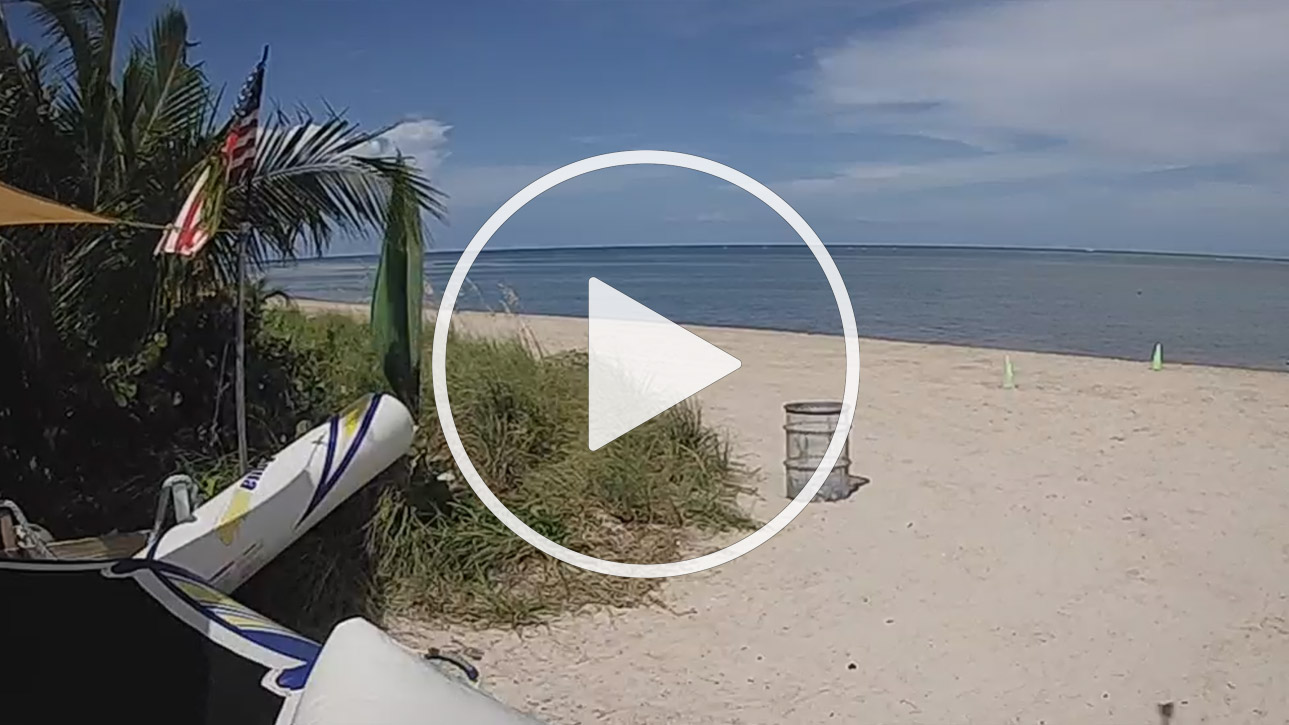 ---
---
Key Biscayne is an island town located just off the coast of Miami, Florida. It holds a rich history that spans several centuries, dating back to the time before European contact. Here's an overview of its history:
Native American Inhabitation: Before the arrival of European explorers, Key Biscayne was inhabited by Native American tribes, including the Tequesta. They lived in the region for thousands of years, fishing and hunting in the abundant natural resources surrounding the island.
Spanish Exploration: In the early 16th century, Spanish explorers, including Juan Ponce de León, were the first Europeans to explore the area. They encountered the Tequesta people and established contact with them.
British and American Period: In the late 18th century, during the British occupation of Florida, Key Biscayne and its surroundings were ceded to Great Britain. However, after the American Revolution, it became a part of the United States when Florida was acquired from Spain in 1821.
Plantation Era: During the 19th century, Key Biscayne saw the establishment of coconut and pineapple plantations. These ventures were not very successful, primarily due to the lack of reliable transportation to the mainland. The area remained relatively rural and sparsely populated.
Cape Florida Lighthouse: One of the key historical landmarks on Key Biscayne is the Cape Florida Lighthouse, built in 1825. It is the oldest standing structure in Miami-Dade County and played a vital role in maritime navigation during its early years.
Bill Baggs Cape Florida State Park: The Cape Florida Lighthouse and its surroundings were designated as Bill Baggs Cape Florida State Park in 1966. This park preserves the natural beauty of the area and provides recreational opportunities for visitors.
Modern Development: In the mid-20th century, with the development of infrastructure and better transportation links, Key Biscayne began to attract more residents and visitors. The construction of the Rickenbacker Causeway in 1947 facilitated easy access to the island from Miami.
Incorporation as a Town: In 1991, Key Biscayne was incorporated as a separate town, allowing it to have more local control over its governance and development.
Exclusive Residential Area: Over the years, Key Biscayne has become known as an exclusive residential community, featuring luxury homes, high-end resorts, and beautiful beaches.
Today, Key Biscayne is a popular destination for tourists and locals alike, offering a unique blend of natural beauty, recreational opportunities, and a rich historical past. It remains an integral part of Miami's diverse cultural and economic landscape.
Top Tourist Attractions
Key Biscayne is a beautiful island town with several top tourist attractions that cater to a diverse range of interests. Here are some of the must-visit attractions on Key Biscayne:
Bill Baggs Cape Florida State Park: This state park is a major highlight of Key Biscayne, offering pristine beaches, nature trails, and picnic areas. Visitors can explore the historic Cape Florida Lighthouse and enjoy stunning views from the top.
Crandon Park: Crandon Park is another popular park on the island, known for its two miles of sandy beaches, lush green spaces, and family-friendly amenities. It's an excellent spot for swimming, picnicking, and various water sports.
Miami Seaquarium: Located on Virginia Key, adjacent to Key Biscayne, the Miami Seaquarium is a marine park and aquarium that offers entertaining shows and interactive experiences with dolphins, sea lions, and other marine creatures.
Crandon Golf at Key Biscayne: Golf enthusiasts will appreciate the 18-hole championship golf course at Crandon Park. The course is beautifully landscaped and offers stunning views of Biscayne Bay.
Hobie Beach (Windsurfer Beach): Known for its shallow waters and steady breezes, Hobie Beach is a hotspot for windsurfing and kiteboarding. It's also a great spot for beachgoers to relax and enjoy the waterfront.
Village Green Park: A quaint and picturesque park in the heart of Key Biscayne, Village Green Park offers open green spaces, a playground, and a perfect spot for picnics and family outings.
Pines Canal Park: A serene and lesser-known spot, Pines Canal Park features a boardwalk that takes visitors through a mangrove forest, providing an opportunity to observe native wildlife.
Crandon Tennis Center: Tennis enthusiasts can enjoy playing at the Crandon Tennis Center, which has hosted numerous prestigious tournaments over the years.
Key Biscayne Historical and Heritage Society: If you're interested in learning about the island's history, the Key Biscayne Historical and Heritage Society offers exhibits and insights into the region's past.
Key Biscayne Beach Club: For those seeking a more luxurious experience, the Key Biscayne Beach Club provides access to a private beach, pools, and various amenities.
Mashta Flats: Nature lovers can explore the Mashta Flats, a shallow area with seagrass beds that attract diverse marine life, making it an excellent spot for snorkeling.
These attractions offer a mix of natural beauty, outdoor activities, and cultural experiences, making Key Biscayne an appealing destination for tourists seeking relaxation and exploration.
Climate
Key Biscayne experiences a tropical monsoon climate characterized by warm temperatures, high humidity, and distinct wet and dry seasons. The climate is influenced by its proximity to the Atlantic Ocean and the Gulf of Mexico. Here's an overview of the Key Biscayne climate:
Temperatures: Key Biscayne enjoys a generally warm climate year-round. During the winter months (December to February), the average high temperatures range from the low 70s to the mid-70s °F (around 22-24°C), while the average lows can dip into the high 50s to low 60s °F (15-18°C). In the summer (June to August), the average highs climb to the upper 80s to low 90s °F (around 30-33°C), and the average lows stay in the 70s °F (around 25°C).
Humidity: Key Biscayne is known for its high humidity levels, especially during the summer months. Humidity can often exceed 70-80% or more, making the weather feel hotter and more uncomfortable.
Rainfall: The wet season in Key Biscayne typically spans from May to October, with June through September being the rainiest months. During this period, the area experiences frequent afternoon showers and thunderstorms, which can be intense but are usually brief. The dry season runs from November to April, with significantly lower rainfall and drier conditions.
Hurricane Season: Key Biscayne is susceptible to hurricanes and tropical storms, particularly during the Atlantic hurricane season, which officially runs from June 1 to November 30. It's important to stay informed about weather updates and preparedness measures during this time.
Sea Breezes: The proximity to the ocean influences the climate, with sea breezes often providing some relief from the heat during the summer. These breezes are cooler winds that blow from the water towards the land, moderating the temperatures slightly.
Overall, Key Biscayne's climate makes it a year-round destination for visitors seeking warm weather and outdoor activities. However, travelers should be prepared for high humidity and the possibility of afternoon rain showers, especially if visiting during the wet season.
Geography
It is situated between the Atlantic Ocean to the east and Biscayne Bay to the west. Here are some key features of Key Biscayne's geography:
Barrier Island: Key Biscayne is one of several barrier islands in the region. Barrier islands are long, narrow strips of land that run parallel to the mainland and protect it from the open ocean. These islands often feature sandy beaches on their ocean side and calmer waters on their bay side.
Beaches: The eastern side of Key Biscayne is lined with beautiful sandy beaches, making it a popular destination for locals and tourists alike. Some well-known beaches on the island include Crandon Park Beach, Bill Baggs Cape Florida State Park Beach, and Hobie Beach (also known as Windsurfer Beach).
Cape Florida: At the southern tip of Key Biscayne, you'll find Cape Florida, a prominent point with the historic Cape Florida Lighthouse. The lighthouse and the surrounding Cape Florida State Park offer breathtaking views of the ocean and Biscayne Bay.
Biscayne Bay: On the western side of the island lies Biscayne Bay, a shallow, subtropical lagoon. The bay is home to diverse marine life and serves as an important habitat for many species. It also offers opportunities for boating, fishing, and other water-based activities.
Crandon Park: This large public park on Key Biscayne encompasses a wide range of natural features, including mangrove forests, dunes, and coastal hammocks. It also contains the Crandon Park Marina and the Crandon Golf Course.
Mashta Flats: The northern end of Key Biscayne features the Mashta Flats, an area of shallow waters with seagrass beds. The flats are ecologically significant as they provide a habitat for various marine species and are a popular spot for snorkeling.
Rickenbacker Causeway: This causeway connects Key Biscayne to the mainland of Miami, making it easy for residents and visitors to access the island. It also provides scenic views of Biscayne Bay and the Miami skyline.
Overall, Key Biscayne's geography is defined by its status as a barrier island, its stunning beaches, and its proximity to the diverse ecosystems of Biscayne Bay. This unique setting makes it a picturesque and sought-after destination in South Florida.