---
Praia Grande, Sintra Live Cam
Located in Praia Grande, by the sea - one of the largest saltwater swimming pools in Europe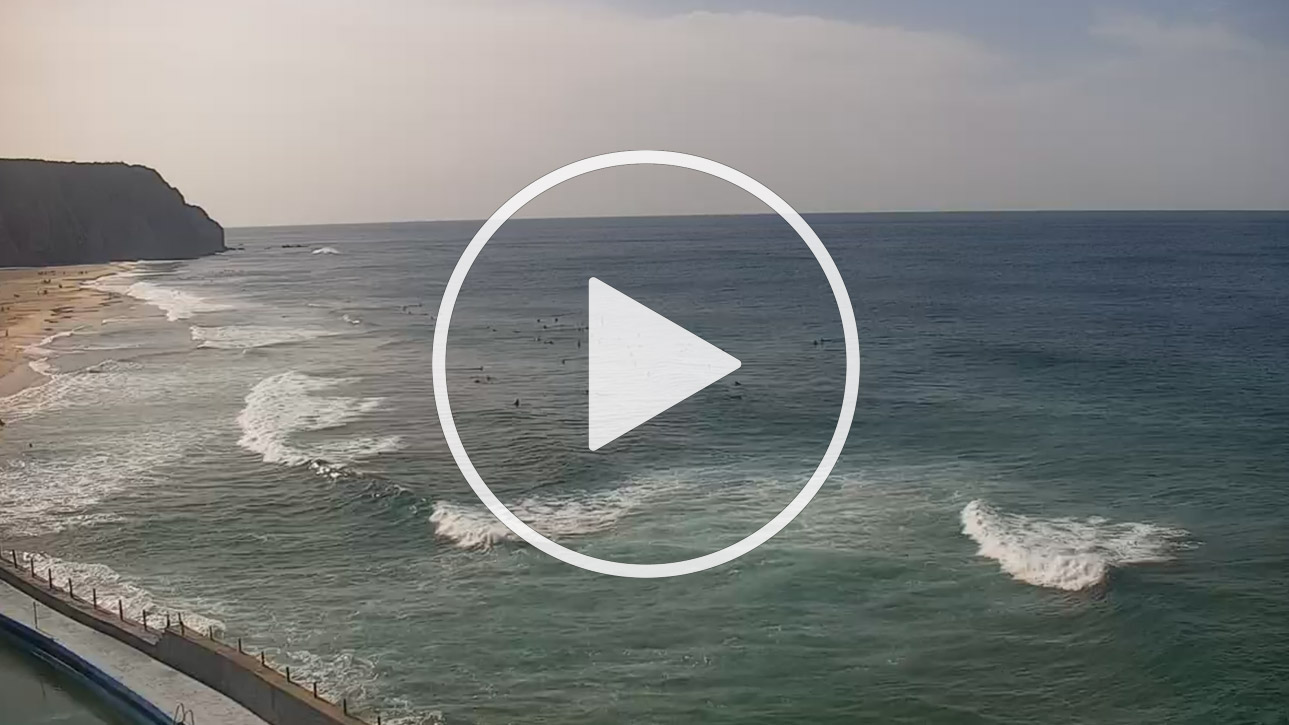 ---
Advertisement
---
Hosted by:
Arribas Sintra Hotel
Praia Grande - Avenida Alfredo Coelho 28
Colares, Sintra - Portugal
+351 219 289 050
http://www.arribashotel.com/
---
Sintra, Lisbon District, Portugal
The Hotel Arribas is located in Praia Grande, in Sintra. The hotel has 59 rooms all with sea view, restaurant, cafe, indoor swimming pool and three rooms for events and meetings. With a superb location on the Atlantic Ocean, the Terrace Restaurant at the Hotel Arribas offers a selection of flavors that combine with your landscape. For a dinner for two, a working lunch, a snack in the evening, the Terrace Restaurant and the Arribas Caffé are two great options.
Wonderful meeting place between land and sea, Sintra is a magical village, living testimony of the Portuguese and mankind history. Sintra is also the capital of Romanticism, with dreaming places and breathtaking landscapes, where architecture and history match uniquely. UNESCO World Heritage Site, visited for more than a million persons each year is a privileged village for leisure, congresses, meetings and other activities related to tourism.
Sintra is located only 30 minutes from the airport, 15 from the Estoril coast and 20 minutes from Mafra Village.
---
---
Portugal Demography
The peripheral location of Portugal has influenced much the demography. Moreover, there are some issues associated with the distribution, including island regions and dispersion over the continental territory. All in all, Portugal can be marked with stable indicators of population quantity and density. In 2022 the number of Portuguese residents was 10,31 million people.
The stable number of people living in the country is preconditioned by a zero rate of population increase: birth rate - 10,86 per 1000 people and mortality rate - 10,43. The migration flows play their role as well, that significantly affected the number of population. Since the Age of Discovery, the emigration flows became a considerable issue in the country, as many new destinations were revealed. Nearly 1,5 million people have left the country for the last 60 years. Brazil, Venezuela and Argentina are essential destinations in Latin America; since Portugal became a EU member in 1986, the country has been engaged in the labor power flows on the European continent. Immigration became popular in 1970s, when Portuguese natives started coming back from the former colonies. In 1990s – 2000s the state gladly welcomed the immigrants from the Eastern Europe, who arrived in Portugal looking for a job.
The immigrants seeking a job caused a dominance of the male population. However, to date the sex pattern is characterized by almost an equal number of men and women – 5,2 and 5,5 million respectively. As for the age structure, the demographical situation features the process of aging. On the contrary, Portugal can boast of high life expectancy rates. They are 74,3 years for males and 81 years for females.
The population density in Portugal is almost corresponding to European – 116 people per 1 square km. The urbanization rate is nearly 61% (2011), which is preconditioned by the agglomerations of Lisbon and Porto; these are the most inhabited areas in the country alongside Madeira and the Azores. It is typical for Portuguese to live in rural areas, which is associated with an agricultural activity. Rural settlements differ significantly in different regions due to the natural conditions and a character of economic relations in a particular area. In the northern areas the typical ones are the scattered settlements and the small villages. The large towns cover the vast terrain between Tejo River and Algarve region, and the extreme south is occupied by the small compact villages. The largest cities in Portugal are Lisbon (2,2 million), Porto (1,5 million), Coimbra, Faro.
Despite the increase of immigration flows in the recent decades, Portugal still remains a single-nationality country, where 99% of people are Portuguese. Of course, there are some national communities registered, which is caused by some historical and economic factors. They are Africans, Eastern Europe natives, Jews (communities in Lisbon and Porto), Brazilians, etc. The main religion is Catholicism, which was always related to the national traditions. In 1910 the church was separated from the national authority, but still it has influenced a lot the social and political life of the country. More than 94% of Portuguese acknowledge themselves as Catholics, the rest affiliate to other religions.
Portugal Education
The education system in Portugal was established in 1900. Nowadays it is regulated by the State through the Ministry of Education, Higher Education and Science. It is free and compulsory until the age of 18. The basic literacy rate of the Portuguese population is about 95%. OECD's Programme for International Student Assessment in the year 2009 showed that the common 15 year-old student from Portugal has the same level of mathematics, science and reading as the students that studied in Hungary, United Kingdom, Denmark, France, Ireland, Germany, Sweden and the United States of America.
Preschool Education - Preschool education in Portugal is optional and totally depends on the parents whether they want their child to go there or not. It can start at the age of 3 and last for two or three years.
School Education - The entire school education system in Portugal is divided into three levels. They last four, two and three years respectively. The basic education usually starts at the age of 5 and 6 and in general lasts nine years. When the person gets the certificate of secondary education, he or she is ready to get higher education.
Higher Education - The higher education in Portugal is divided into 2 sub Systems: University and Non-University education. There are public and private universities and they both award degrees. There are universities and polytechnics. The difference between them is that university is more about theory while polytechnic is about practice. In Portugal students can change from polytechnic to university and vice versa. It also doesn't matter whether they are public or private.
University Degrees: Undergraduate - All higher educational institutions offer undergraduate courses. It takes about six to eight semesters to get bachelor's degree. Graduate - After a bachelor degree one can get masters. This usually takes for about two years depending on the course the student has chosen. PhD - Students obtain their PhD degree after a successful defense of their thesis. In Portugal PhD doesn't have a fixed duration but it usually takes about three or four years to do the necessary research.
Study abroad in Portugal: Study Abroad - There institutions in Portugal also offer education in English. This enables a lot of Europeand to get education in Portugal. Summer Programs - There are different kinds of summer programs and courses in Portugal to choose from. Learning language - There are different courses in Portugal that help to learn Portuguese (the official language of Portugal). They are really helpful for everyone who wants either to relocate to Portugal or to enter the university there. Even though English is widely spoken in Portugal, Portuguese is necessary for socializing in everyday life.
Portugal Festivals
Holidays and festivals are a true passion of Portuguese people and usually it is not a problem to find an occasion. They have heart set on commemorating numerous saints, arranging pilgrimages (romarias), fascinating fairs (feiras) and festivals (fiestas) in addition to traditional Catholic holidays. Especially, holidays are much adhered in the northern regions, where even the smallest village makes a huge gala on any occasion, including a loud music and dancing, vivid fireworks and salutes. So, while visiting Portugal there is a good chance to attend some festivities, as far as Portuguese holiday calendar is pretty overwhelmed.
February is a carnival season in Portugal. The date is usually not fixed (it is February 19th in 2012), but the entire week goes completely on schedule. The first day, for example, is often marked with the march of pupils and students, which have holidays during the fest. Monday, usually called Pink Monday, is a day of jesters' procession. On Sundays and Tuesdays furious and passionate dancing is on the plan. Since 1926 there is a tradition of matrafonas – males changed into females in a vulgar manner. However, different regions of Portugal preserve their own features of celebration.
May is a period of regional festivities. May 1st is a Big Thaw Day in Algarve, when locals decorate their houses with flowers and garlands.
Festival of the Man of the Sea is a major holiday, established in Nazaré, the best beach resort in the country, on May 7th. The festival program includes an abundant marine banquet, the procession of brightly dressed fishing schooners and beach dances and contests.
May 13th is Our Lady of Fátima Holiday, which is aimed to commemorate the miracles of Virgin Mary occurred in 1917. Every month (on day 13) during half of the year, various miracles happened in Portugal.
Portuguese natives, especially Lisbon residents, worship Santo Antonio on June 13th. Massive parades and open air parties are supplemented with some certain customs; young people write notes to the Saint with love affairs requests, young men present pots with paper carnations or any other gift to their beloved. The Portuguese believe that matrimonies organized on this day are the happiest ones.
Feast of John the Baptist on June 24th attract with fires, bonfires, fireworks, lit not only in villages but also in the areas of large cities. Local chapels gather people with torchlights in hands. The most vivid celebrations are organized on the Azores and Madeira Islands. Braga celebrates it for a couple days.
Catholic adherence to commemoration of Saints is also observed on the Feast of Saints Peter and Paul (June 29th). A town of Seixal is a major destination point, where fairs of handcrafts, parades and parties pull in visitors. Porto de Mos organizes a one week celebration, as Saint Peter is considered a city patron.
On August 14th Abiul invites people on bullfight birthday, where the central place is, of course, devoted to the corrida de toros, which appears to be a set of sport competition, artistic work and spectacular performance. The main feature of this celebration is a demonstration of bullfighting in Portuguese old-fashioned traditions, especially without killing a bull after the event.
On the edge of August and September wine festival is arranged in Portugal, motherland of numerous wine sorts. In particular, Madeira Wine Festival transforms into a huge performance, aimed to glorify the start of grape gathering and wine-making. Madeira wines are offered everywhere: tables are put on the streets, wine storages are opened and wine exhibition is organized. Lots of people come here to find out a history of exquisite Madeira wines and to taste them. Madeira is sure one of top places to go.
Feast of Blessed Nuno is a highly appreciated holiday among the Portuguese, celebrated on November 6th. Nuño Álvares Pereira played a significant role in Portuguese independence from Castile in the 14th century. However, the canonization of the Saint occurred only in 1918.